ANALISIS KADAR LUTEINIZING HORMONE (LH) PADA SERUM SAPI FRIESIAN HOLSTEIN POST PARTUM DENGAN PENAMBAHAN SELENIUM DAN VITAMIN E
Abstract
ANALISIS KADAR LUTEINIZING HORMONE (LH) PADA SERUM SAPI FRIESIAN HOLSTEIN POST PARTUM DENGAN PENAMBAHAN SELENIUM DAN VITAMIN E

 

Ririn Dwi Prasetiani1), Sri Rahayu2), Aris Soewondo3)

1),2),3) Laboratorium Biomolekuler dan Seluler, Jurusan Biologi, Fakultas Matematika dan Ilmu Pengetahuan Alam, Universitas Brawijaya, Malang 65145, Jawa Timur, Indonesia.

E-mail: ririndwi68@yahoo.com

ABSTRAK

Sapi Friesian Holstein (FH) merupakan bangsa sapi yang memiliki produksi susu tertinggi dibandingkan bangsa-bangsa sapi perah lainnya. Banyak peternak yang menginginkan peningkatan produktifitas sapinya dengan asumsi setiap 1 ekor sapi setidaknya melahirkan 1 ekor anak sapi setiap tahun. Namun banyak masalah yang ditimbulkan pada sapi postpartum, salah satunya akibat peningkatan radikal bebas pada tubuh sapi postpartum, sehingga asumsi tersebut tidak terpenuhi. Penelitian ini bertujuan untuk menganalisis pengaruh pemberian selenium dan vitamin E secara intramuskular terhadap kadar Luteinizing Hormone (LH) serum sapi FH postpartum. Hewan coba yang digunakan adalah 6 ekor sapi bunting 7 bulan yang dibagi menjadi 2 kelompok, masing-masing 3 ekor untuk kelompok kontrol (P0/ tidak diinjeksi selenium dan vitamin E) dan perlakuan (P1/di injeksi sodium selenite 1,5 mg/ml + vitamin E 50 mg/ml). Injeksi dilakukan 5 kali yaitu saat sapi bunting 7 bulan, 8 bulan, saat 2 minggu sebelum melahirkan, 7 hari dan 14 hari setelah melahirkan. Pengambilan serum untuk pengujian kadar LH dilakukan dua kali dari masing-masing hewan coba, yaitu pada 25 hari dan 45 hari postpartum. Pemeriksaan kadar LH dilakukan dengan teknik ELISA (Enzyme-Linked Immunosorbent Assay). Hasil penelitian menunjukkan bahwa pemberian sodium selenite 1,5 mg/ml + vitamin E 50 mg/ml cenderung menyebabkan peningkatan LH serum sapi FH pada 25 dan 45 hari postpartum.

 

Kata kunci: LH, sapi FH, selenium, vitamin E

ABSTRACT

Holstein Friesian dairy cows (FH) is a group of cows that have the highest milk production compared to other dairy cattle groups. Many farmers want to increase the productivity of the cow with the assumption that every one cow give birth to at least 1 cow each year. But many problems caused in postpartum cows, one of which is due to the increase of free radicals in the postpartum cows body, so the assumptions are not met. This study was conducted to analyze the effect of selenium and vitamin E intramuscularly in LH levels serum of dairy cow FH postpartum. There are 6 cows divided into two groups, 3 cows for each group. First group is control (P0) which no administration of sodium selenite and vitamin E, and second group is treatment (P1) that intramuscularly injected of sodium selenite 1.5 mg/ml + vitamin E 50 mg/ml). Injection of selenium and vitamin E conducted 5 times when 7 months, 8 months cows gestation, two weeks before calving, seven days after calving and 14 days after calving. Serum sampling for testing levels of LH take in 25 days and 45 days postpartum on each cows. The level of LH was conducted by ELISA (Enzyme-Linked Immunosorbent Assay). The results showed that administration of sodium selenite 1.5 mg/ml + vitamin E 50 mg/ml causes increased LH levels serum that taken 25 days, 45 days postpartum.

 

Keywords: dairy cow FH, LH, selenium, vitamin E
References
Anonim. 2009. Roadmap Industri Susu. www.kemenperin.go.id. Diakses tanggal 15 April 2015.
Webster, J. 1993. Understanding The Dairy Cow. 2nd Ed. Blackwell Scientific Publications. Oxford.
Rhodes, F.M., S. McDougall, C.R. Burke, G.A. Verkerk & K. L. Macmillan. 2003. Invited Review: Treatment of Cows with an Extended Postpartum Anestrous Interval. J. Dairy Sci. 86(6):1876-1884.
Ciccioli, N.H. & R.P. Wettemann. 2000. Nutritional Effects on Estrus dan Ovarian Activity of Spring Calving First-Calf Heifers. Anim. Sci. Res. Report:160-163.
Castillo, C., J. Hernandez, A. Bravo, M. Lopez-Alonso, V. Pereira, & J.L. Benedito. 2005. Oxidative Status During Late Pregnancy and Early Lactation in Dairy Cows. Vet. J. 169:286–292.
Nayyar, S. & R. Jindal. 2010. Essentiality of Antioxidant Vitamins for Ruminants in Relation to Stress and Reproduction. Iranian Journal of Veterinary Research 11, 1–9.
Bernabucci, U., B. Ronchi, N. Lacetera, & A. Nardone. 2005. Influence of Body Condition Score on Relationships Between Metabolic Status and Oxidative Stress in Periparturient Dairy Cows. J. Dairy Sci. 88:2017–2026.
Dunnam, R.C., M.J. Hill, D.M. Lawson & J.C. Dunbar. 1999. Ovarian Hormone Secretory Response to Gonadotropins and Nitric Oxide Following Chronic Nitric Oxide Deficiency in the Rat. Biol. Reprod. 60, 959–963.
Abdel-Sater, K.A. 2011. Physiological Positive Feedback Mechanisms. American Journal of Biomedical Sciences, 3(2), 145-155.
Djujic, I., M. Demajo, O. Jozanov-Stankov & L.J. Markovic. 2005. Health Benefits of Consuming Selenium – Enriched Quail Eggs. Proceedings 5th International Symposium on Trace Elements in Human: New Perspectives. Athens, Greece, 622-635.
Parakkasi, A. 1999. Ilmu Makanan Ternak Ruminansia. Penerbit Universitas Indonesia. Jakarta.
Beam, S.W. & W.R. Butler. 1997. Energy Balance and Ovarian Follicle Development Prior to the First Ovulation Postpartum in Dairy Cows Receiving Three Levels of Dietary Fat. Biol. Reprod. 56:133-142.
Schillo, K.K. 1992. Effect Of Dietary Energy On Control Of Luteinizing Hormone Secretion in Cattle and Sheep. J. Anim. Sci 70: 1271-1282.
Chapin, R.E., D.K. Gulati, P.A. Fail, E. Hop, S.R. Russell, J.J. Heindel, J.D. George, T.B. Grizzle & J.L. Teague. 2000. The Effects of Feed Restriction on Reproductive Function in Swiss CD-1 mice. Fundam. Appl. Toxicol. 20: 15-22.
Rosenfeld, I. & O.A. Beath. 2004. Effect of Selenium on Reproduction in Goats. Proc. Soc. Exp. Biol. Med. 87: 295-297.
Prasdini, W.A. 2014. Optimalisasi Reproduksi Sapi Perah Frisien Holstein (FH) dengan Penambahan Variasi Dosis Selenium-Vitamin ETM Secara Intramuskular. Tesis Fakultas Matematika dan Ilmu Pengetahuan Alam Universitas Brawijaya Malang.
Yavas, Y. & J.S. Walton. 2000. Induction of ovulation in postpartum beef cows. Theriogenology 54: 1-23.
Suartini, N.K., I.G.N.B. Trilaksana & T.G.O. Pemayun. 2013. Kadar Estrogen dan Munculnya Estrus setelah Pemberian Buserelin (Agonis GnRH) pada Sapi Bali yang Mengalami Anestrus Postpartum Akibat Hipofungsi Ovarium. Jurnal Ilmu dan Kesehatan Hewan, Vol . 1, No. 2: 40-44.
Barnes, M.M.C. & A.J. Smith. 1975. The Effects of Vitamin E Deficiency on Some Enzymes of Steroid Hormone Biosynthesis. International Journal of Vitamin Nutrition Research 45, 396-403.
Richards, J.B., D.M. Hallford & G.C. Duff. 1999. Serum Luteinizing Hormone, Testosterone, and Thyroxine and Growth Responses of Ram Lambs Fed Locoweed (Oxytropis Sericea) and Treated With Vitamin E/Selenium. Theriogenology, 52(6):1055-1066.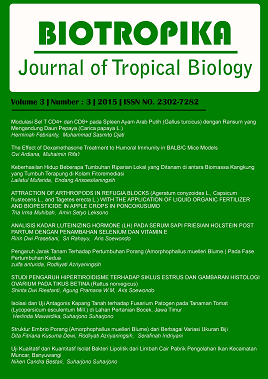 Downloads
License
Copyright and Attribution:
Articles in Biotropika: Journal of Tropical Biology are under Creative Commons Attribution (CC-BY-SA) copyright. The work has not been published before (except in the form of an abstract or part of a published lecture or thesis) and it is not under consideration for publication elsewhere. When the manuscript is accepted for publication in this journal, the authors agree to the automatic transfer of the copyright to the publisher.
Journal of Biotropika: Journal of Tropical Biology is licensed under a Creative Commons Attribution-ShareAlike 4.0 International License.
Permissions:
Authors wishing to include figures, tables, or text passages that have already been published elsewhere and by other authors are required to obtain permission from the copyright owner(s) for both the print and online format and to include evidence that such permission has been granted when submitting their papers. Any material received without such evidence will be assumed to originate from one of the authors.
Ethical matters:
Experiments with animals or involving human patients must have had prior approval from the appropriate ethics committee. A statement to this effect should be provided within the text at the appropriate place. Experiments involving plants or microorganisms taken from countries other than the author's own must have had the correct authorization for this exportation.