Protective Effect of Temulawak (Curcuma xanthorriza) Rhizome Extract on Monosodium Glutamate-Induced Mice Sperm
Keywords:
sperm quality, MSG, Temulawak, Sperm Abnormalities
Abstract
The current study aimed to analyze the protective effect of the aqueous extract of temulawak (Curcuma xanthorriza) rhizome on the sperm quality of monosodium glutamate (MSG)-induced mice. This study used 30 male mice (aged 2.5-3 months old and weighing 25-30 g), which were then randomly divided into five groups: K- (healthy male mice received only aquadest), K+ (male mice exposed to 4 mg/kg BW MSG), MT1, MT2 and MT3 (MSG-induced male mice orally treated with 0.2, 0.4 and 0.6 mg/g BW temulawak (C. xanthorriza) rhizome extract for 14 days, respectively). At the end of treatment, all mice were sacrificed, and cauda epididymis was isolated. The obtained semen was analyzed for its quality, including motility, viability, concentration and spermatozoa abnormalities. MT2 group exhibited the highest sperm motility of MSG-induced mice (79.16±4.45%). The highest sperm viability was also observed in the MT2 (77.83±2.75%) followed by MT1 and MT3 groups (70.19±5.93 and 72.41±5.53%, respectively). MT2 and MT3 groups could increase (p<0.05) sperm concentration in MSG-induced mice by 14.03x106 and 14.46x106 cells/ml, respectively. While, sperm abnormalities of MSG-induced mice tend to decrease in all groups treatment by 38.10% (MT1), 36.32% (MT2) and 36.04% (MT3). In conclusion, the administration of 0.4 mg/g BW aqueous extract of C. xanthorriza rhizome could improve sperm quality by increasing the motility, viability and concentration of sperm and also altered the sperm abnormality of MSG-induced mice.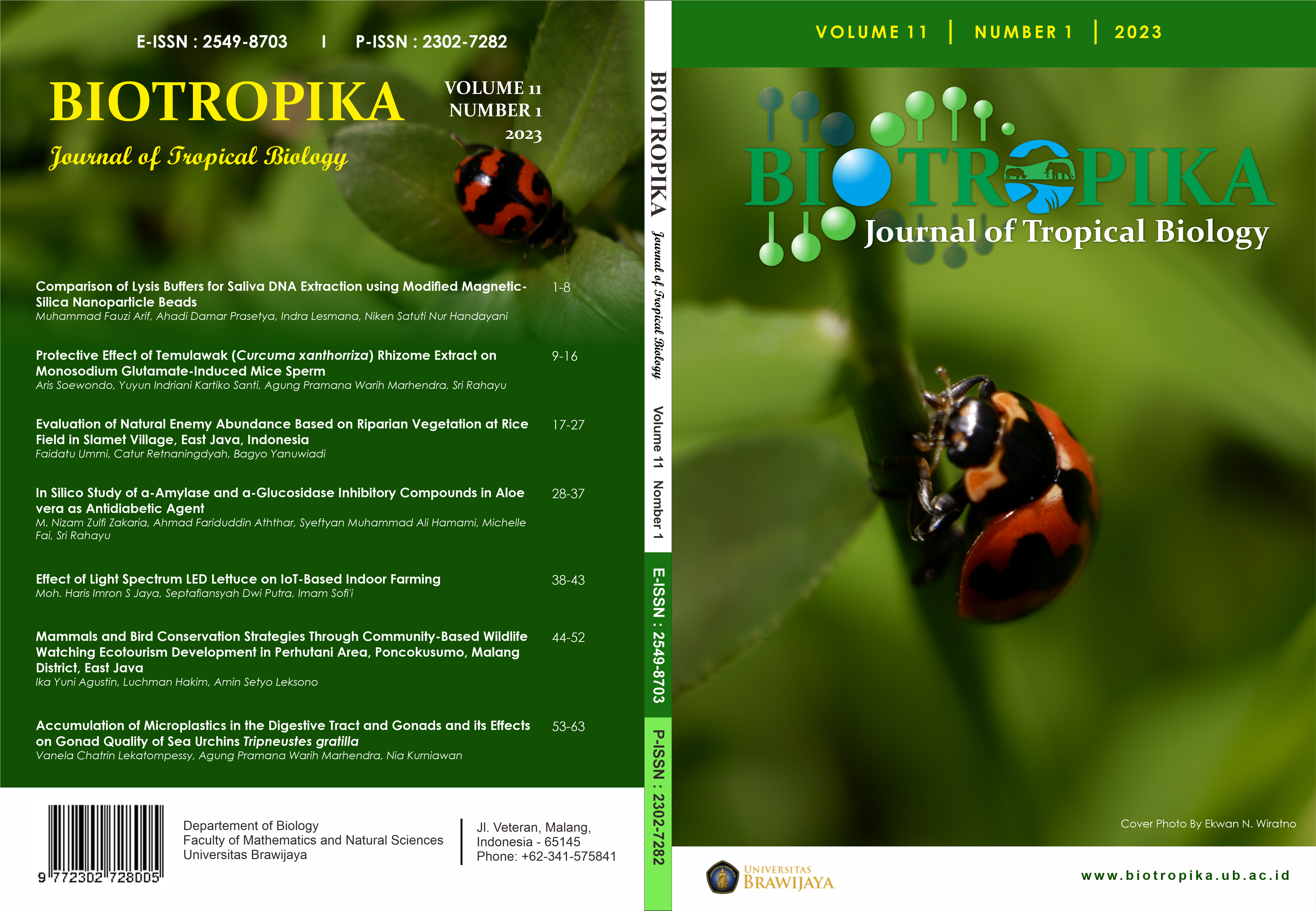 Downloads
License
Copyright and Attribution:
Articles in Biotropika: Journal of Tropical Biology are under Creative Commons Attribution-NonCommercial (CC-BY-NC) copyright. The work has not been published before (except in the form of an abstract or part of a published lecture or thesis) and it is not under consideration for publication elsewhere. When the manuscript is accepted for publication in this journal, the authors agree to the automatic transfer of the copyright to the publisher.
Journal of Biotropika: Journal of Tropical Biology is licensed under a Creative Commons Attribution-NonCommercial 4.0 International (CC BY-NC 4.0).
Permissions:
Authors wishing to include figures, tables, or text passages that have already been published elsewhere and by other authors are required to obtain permission from the copyright owner(s) for both the print and online format and to include evidence that such permission has been granted when submitting their papers. Any material received without such evidence will be assumed to originate from one of the authors.
Ethical matters:
Experiments with animals or involving human patients must have had prior approval from the appropriate ethics committee. A statement to this effect should be provided within the text at the appropriate place. Experiments involving plants or microorganisms taken from countries other than the author's own must have had the correct authorization for this exportation.